Strategic Direction
Partnerships & Leadership
Sydney Metro Northwest Places precincts and placemaking
Landcom and Sydney Metro are working together on the long-term planning and development of government-owned land surrounding the eight new Sydney Metro Northwest stations from Tallawong in Rouse Hill through to Epping.

The program, called Sydney Metro Northwest Places, focuses on creating diverse, well-designed places for current and future communities.
This cross-government collaboration will see us deliver diverse housing, retail and commercial spaces, public spaces and community facilities in well-designed inspiring places close to state-of-the-art transport.
Planning and concept masterplanning is underway with ongoing consultation planned for FY21.
We are committed to excellent design and collaborate with the Government Architect NSW, local councils, Sydney Metro and future developers to leverage their expertise. Guided by our Housing Affordability and Diversity Policy, we are investigating opportunities for different home types, from high rise to low rise medium density, as well as townhouses and small lot housing.


Celebrating an active year in placemaking
Our placemaking team created several great events and initiatives during FY20 to bring new communities together. This people-centred approach to the planning, design and management of public spaces builds on a local community's assets, inspiration, and potential and reflects community and cultural values. It creates lively neighbourhoods and inviting public spaces where people want to live, work, shop and play.



In FY20, the Sydney Metro Northwest Places placemaking program:
Delivered more than 125 'activations' and engaged more than 3,000 locals across events, workshops, fitness programs and competitions;
Worked with nine artists to celebrate local culture and heritage; and
Installed public artworks on hoardings that run over 1km when combined.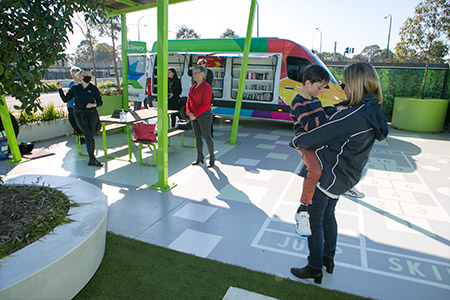 In addition, Tallawong pocket park hosted playgroups and activities of all kinds. The success of these activities has been demonstrated with the community now coming to Landcom to use the space for activities.
Our creative hoardings and installations have been well received and feature a painted mural and ground plane at Bella Vista by Sam Songailo – Blue and Pink Oasis, and The Northwest Pole Christmas installation with wonderful drawings by local children at Tallawong. The Hills Are Alive banner at Bella Vista was developed by Tina Havelock Stevens and collaborators included Dharug language Indigenous artwork by local artist Leanne Watson, and poetry by local community members.

The partnerships continued with Museum of Contemporary Art's C3West.
The Plant Library by Lauren Brincat at Tallawong was a 10-day installation of a purpose-built library showcasing edible native plants for local community members to use in their cooking. It was supported by a five-month program of community workshops.
Hasta La Bella Vista Baby by Tina Havelock Stevens saw the production of a Bollywood film through the streets of Bella Vista featuring local dancers, with local musicians creating a sound track for the film. This cultural festival project targeted people aged 18 to 40 to understand their desires to live in the area. A TV style talk show pop-up engaged local community to explore and understand their concerns and aspirations. The project culminated in an after-dark community festival at Bella Vista where the film was premiered, supported by live performances.
Although COVID-19 restricted early placemaking activities, our team has addressed social distancing requirements and adapted the placemaking program. COVID-19 has highlighted an emerging need to re- evaluate permanent place outcomes to benefit future communities.
The placemaking program will continue respond to existing and emerging communities' needs and desires, and encourage people's connection to these places as they evolve over time, to inform and shape the legacy of these places.
Other Case Studies